The quote simply means that you need data to make shrewd decisions (specifically data from Salesforce dashboards ;)). When you fail to use historical data to make decisions, you risk repeating the mistakes of the past. Although failure is a natural part of life, it is crucial to move forward after it and importantly, learn from it.
In sales, analytics are essential to inform decisions, generate new ideas, and unveil growth opportunities. According to the 2018 Global Data Management Benchmark Report, approximately 52% of firms contend that data and analytics will be a source of opportunity in the future. In this age of information overload, more companies are relying on data to offer actionable insights. The big question is; how can sales teams visualize their sales data to inform decisions and evaluate performance? The answer is simple: a sales dashboard.
A sales dashboard can be defined as a visual representation of sales data. The information presented in a dashboard can be filtered according to different durations and can offer real-time data. Sales dashboards are beneficial for sales teams. They offer an overview of KPIs and determine how your sales team is faring towards your objectives and revenue targets. Sales dashboards can be used to evaluate sales performance, make decisions, award incentives and bonuses, and identify an issue in the sales process.
At this point, you may be wondering how you can create a sales dashboard. Below are some tips for creating a useful sales dashboard.
· Define your sales metrics
Start by identifying the sales metrics that you want to track. The sales metrics can fall into activity sales metrics, pipeline sales metrics, lead generation sales metrics, sales productivity metrics, primary conversion sales metrics, and sales outreach metrics.
Here are a few questions you should ask when determining your sales metrics.
Which metrics are commonly reviewed in your company? Is it revenue, conversion rate, quota attainment, or average deal size?
What are your KPIs?
Does your company value certain metrics over others? For instance; do you value revenue more than conversion rate?
· Dashboard's use
To create the right dashboard for your sales team, you need to know how it will be used and by who. There are many types of salesforce dashboard that you can use depending on the intended use and user. Will the dashboard be used by sales reps to monitor their progress or sales managers to identify the top-performing reps? Consider these things;
User: will it be for sales reps, sales managers, or executives?
Use: how often will they use it? Is it daily, weekly, or monthly?
Information: consider the information that users will want to see. Which metrics, visualizations, and calculations will the users want to see?
Viewing: will the dashboard be viewed on computers, or will it have a mobile version of it?
· Choose a dashboard
There are many dashboards in the market today. Since there is no one-size-fits-all dashboard, choose the one that meets your sales team needs. Also, select a Salesforce dashboard that is easy to use and easy to read. The target user should read and understand the visualizations without much effort or viewing the entire report.
· Pull data into the dashboard
If you are already using a CRM, it is easy to sync data between it and the dashboard. If you use spreadsheets to manage your customers and do not have a CRM, you have to start creating your dashboard from scratch. Once you have your data, select the charts you would like to use to visualize your data. Once the dashboard is ready, share it with the users and train them to use it.
Top 5 Salesforce Dashboards
1. Sales Rep Dashboard
This dashboard is a must-have since it offers sales reps the ability to track their individual performance. It allows reps to monitor performance indicators like open opportunities, deals in the pipeline, and forecasted revenue, among other metrics that are relevant to your organization. The sales rep dashboard answers the following questions.
How are reps progressing towards their quota?
How much are reps booking this month?
For an individual sales rep, the sales reps dashboard answers questions like:
Is my pipeline enough to meet my monthly quota?
How is my sales cycle in comparison with my colleagues?
What activities should I concentrate on to meet my goals?
2. Sales Manager Dashboard
As a sales manager, you don't want to miss any bit of your team's progress and activity. With the sales manager dashboard, you can measure the performance of your team. It provides an overview of the crucial metrics that you use to measure performance, whether revenue, deals closed, or conversion rate. This dashboard also offers insights into your team's monthly progress.
The sales manager dashboard answers questions like:
How are sales this month?
Which opportunities did the sales team win and loss?
Is our pipeline changing, and how is it changing?
Are the leads we are generating sufficient to meet our future objectives?
How effective is the sales team and its activities?
Are there areas in the sales process that need improvement?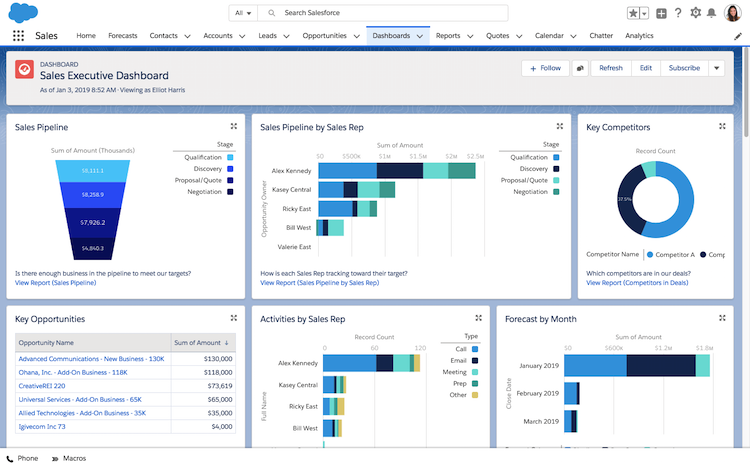 3. Win/Loss Dashboard
This dashboard helps you and your team identify the activities that closed a deal or resulted in a lost deal. It offers an avenue to track why deals are won or lost. You can develop ways to ensure most if not all deals are won.
The win/loss dashboard offers insights into the areas that may need focus and intervention in the sales process. For example, if you identify the reasons that repeatedly cause lost deals, you can create mechanisms to remedy them. If cost is the primary reason you lose many deals, you might revisit your cost structure and assess whether it is consistent with your target market.
If you lost several deals because they were not an ideal fit, you can better clarify your customer persona and target them well. With a win/loss rate report, you can compare your team's rates with those of previous periods or industry benchmarks.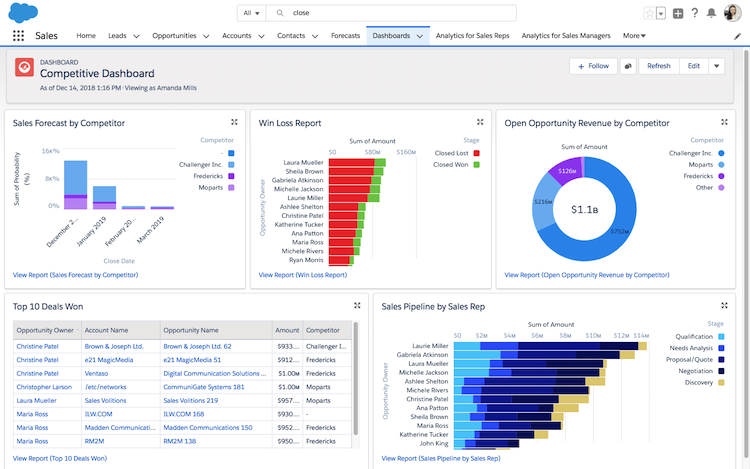 4. Lead Funnel Dashboard
The lead funnel dashboard offers valuable data into how sales and marketing are working collaboratively. It merges the sales and marketing department because they use the same dashboard to make data-driven decisions.
With this dashboard, you can identify whether marketing is generating leads and whether the leads are converting. If the leads are not converting, maybe the sales reps are delaying before they pursue leads or perhaps marketing is not qualifying the leads correctly.
With a lead funnel dashboard, you can answer questions like:
How is the lead generation process progressing?
How many leads are getting converted to sales?
How much time is it taking to convert leads?
Is the sales team pursuing leads?
Which lead sources are generating the most qualified leads for marketing teams?
The goal of the lead funnel dashboard is to identify how the sales and marketing teams can best spend their time and resources. For example, if the sales team is working on all the leads offered quickly, the marketing team should strive to generate more leads.
.
5. Sales Leaderboard
Everyone likes to be recognized and appreciated, and sales reps are no different. A sales leaderboard is an excellent way of recognizing top-performing sales reps. It helps you to know the rep who is performing best out of your team. You can also know how each salesperson is performing compared to others.
The sales leaderboard is a method of gamifying sales performance and establishes a healthy competitive spirit and promotes accountability among reps for their sales activities. It also encourages mentorship as top performers can coach poor performers and new reps. This dashboard typically shows the number of closed deals, generated MRR, new business brought and upsells, and won opportunities.
Apart from showing the performance of individual sales teams, sales leaderboards offer a quick look at the overall performance of the team depending on the metrics you have set. You can identify the total revenue generated, activities completed, or deals closed by your sales team. In case there is an issue in your team, your sales leaderboard can help you identify it. For example, if all sales reps' deals closed are low, you know there is a problem somewhere.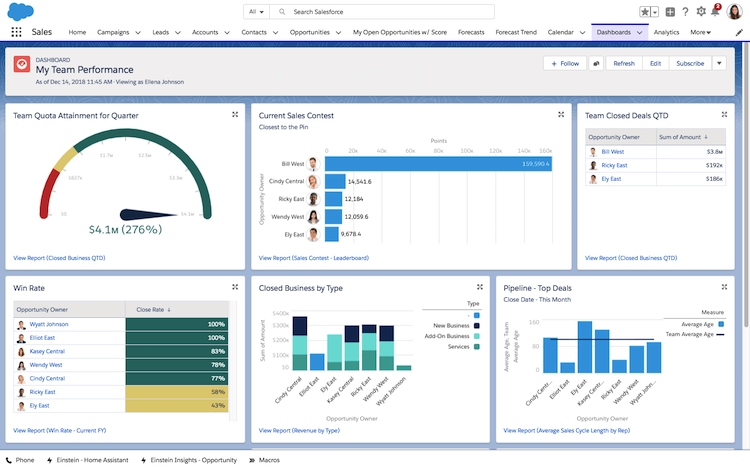 Sales dashboard best practices
Choose what you measure carefully. Choose three or five goals to measure.
Keep the dashboard simple. The simpler, the better.
Make your dashboard your homepage. It is best practice to customize your CRM so that your dashboard is on the home page so that it is the first thing you see when you log in.
Regardless of your role in the sales team, salesforce dashboards can be beneficial to you.
Whether you are a sales manager or a rep, dashboards can make your life easier by revealing opportunities for improvement and informing decision-making. You don't have to wonder how your sales team is performing or spend countless hours going through documents and spreadsheets; you can get all your answers with one click.
While we are here… the Ebsta Engagement score has been blowing the minds of sales managers and leaders for the past 18 months…
Imagine being able to see the real engagement of your reps and their pipeline as driven by actual communication data?
Ebsta Team connects all the communication data (emails, calendar invites and calls) your sales team produce to arrive at the Ebsta Engagement Score, find out more by requesting a demo here.